银箭(Frecciargento)
Arrow Train (Frecce) High Speed Rail
The Silver Arrow High Speed Rail (FA) operates on high-speed and traditional lines at speeds of up to 250 km/h, and the connection shortens the distance between Rome and some metropolitan areas in northern and southern Italy. The model is ETR 450/460/485 or the most advanced pointed ETR 600.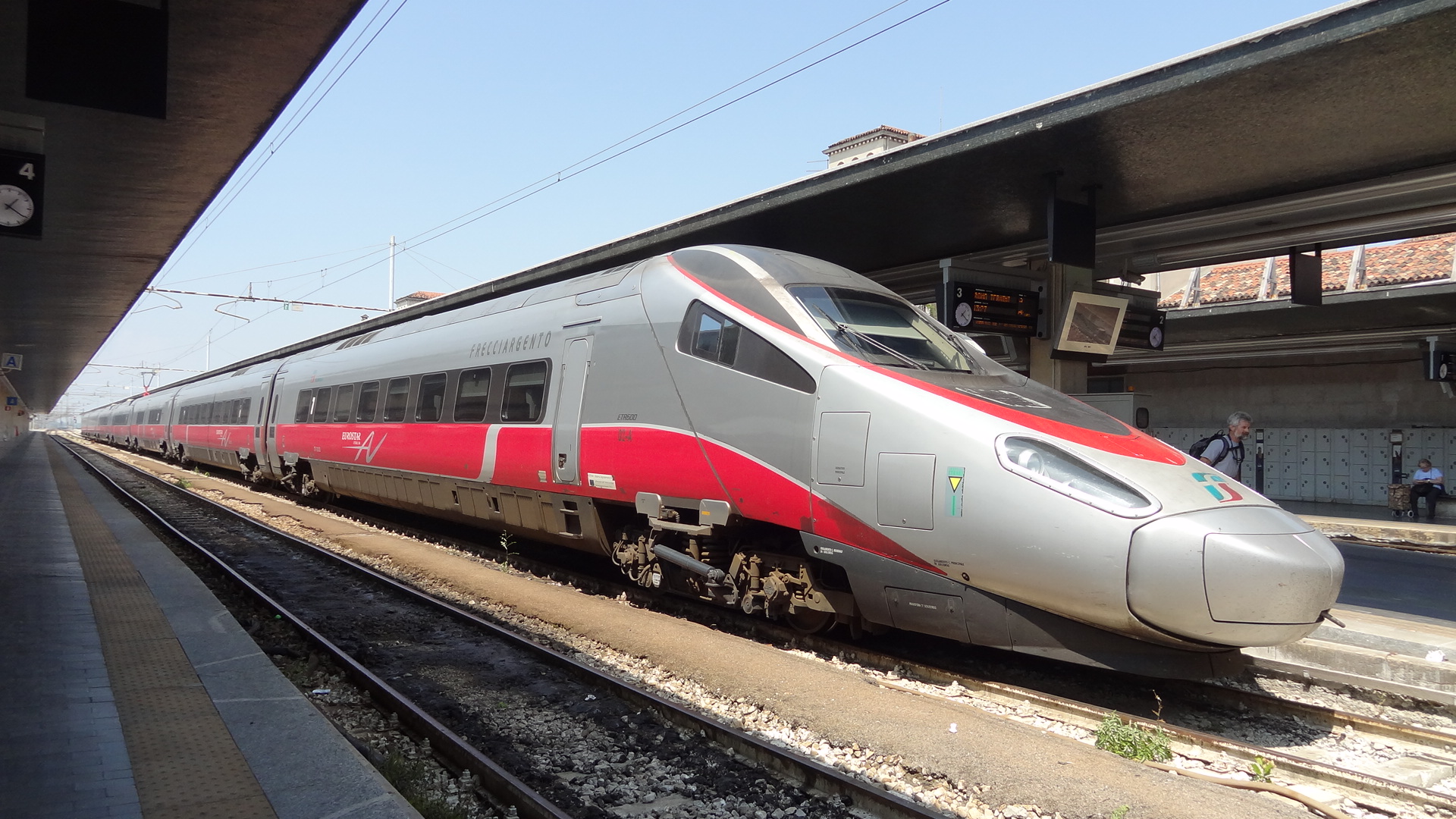 Main route
You can choose from 48 routes at your convenience and time each day:
16 trains connect Rome with Venice: 2 趟 continue to Udine, 2 里 from Venice Mestre to Trieste, 4 趟 continue to Rome's Fiumicino Airport, in Pa Dowa, Bologna, Florence and Rome docked. Depart from Fiumicino Airport at 11:08 in the morning, take the Frecciargento 8431/8432 at 11:08 am and leave Frecciargento 8445/8446 at 3:28 pm.

16 trains from Rome to Verona, continue to Bergamo (4 trains), Brescia (4 trains, increase to 6 周末 over the weekend) or Trento and Bolzano (Monday to Thursday 8 趟) Trains increased to 10 miles from Friday to Sunday); 4 trains Bolzano – Rome – Naples;

6 trains from Rome to Lecce in Caserta, Benevento, Foggia, Barletta, Bari, Brindisi, Monopoli and Ostuni, in Rome, Caserta There are 2 new trains between Benevento and Benevento.

2趟 Direct train from Rome to Bari.

2趟 From Rome to Reggio Calabria, staying in the main areas of Puglia and Calabria.

2 trains from Rome to Mantua docked in Florence, Bologna, Modena and Carpi.

2 trains from Rome to Genoa stop in Florence, Pisa and La Spezia.
In-car facilities
Air conditioning (ETR600/485)
Socket for each seat (ETR600/485)
LCD touch screen display providing information about Frecciargento offers and services (ETR600)
The car is equipped with a display that displays information about travel, news, videos and other useful news, and is constantly updated (except for car number 3) (ETR600)
Seat indicator light (ETR600)
Space for large suitcases at both ends of the carriage and in the hallway (ETR600/485). The 3rd wagon is equipped with 2 disabled seats for wheelchairs for the disabled (ETR600/485)
There is a washroom in each compartment, 2 washrooms in the 2nd and 3rd carriages, and a disabled toilet in the 3rd carriage (ETR600/485)
cabin
Silver Arrow High Speed Rail has two types of space