Japan Railway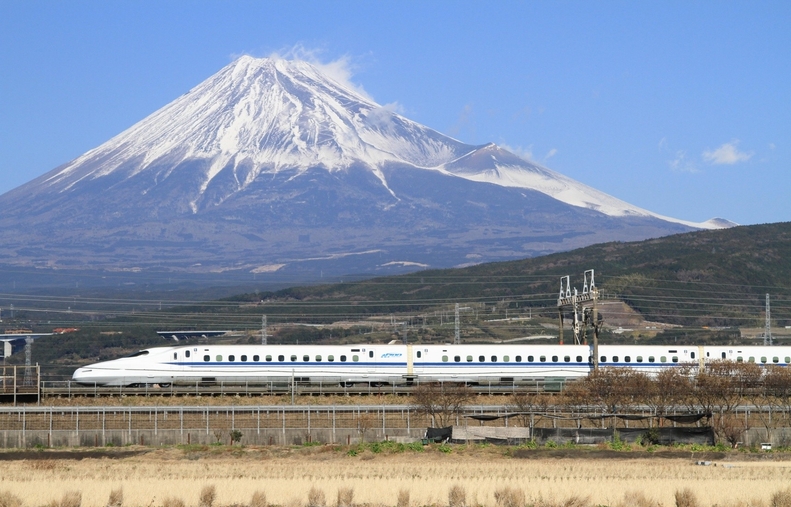 For an island country like Japan that does not occupy a large area, the railway system is quite developed, and the operating tools connecting major cities basically rely on railways. Japanese railways are known for their punctuality and high safety.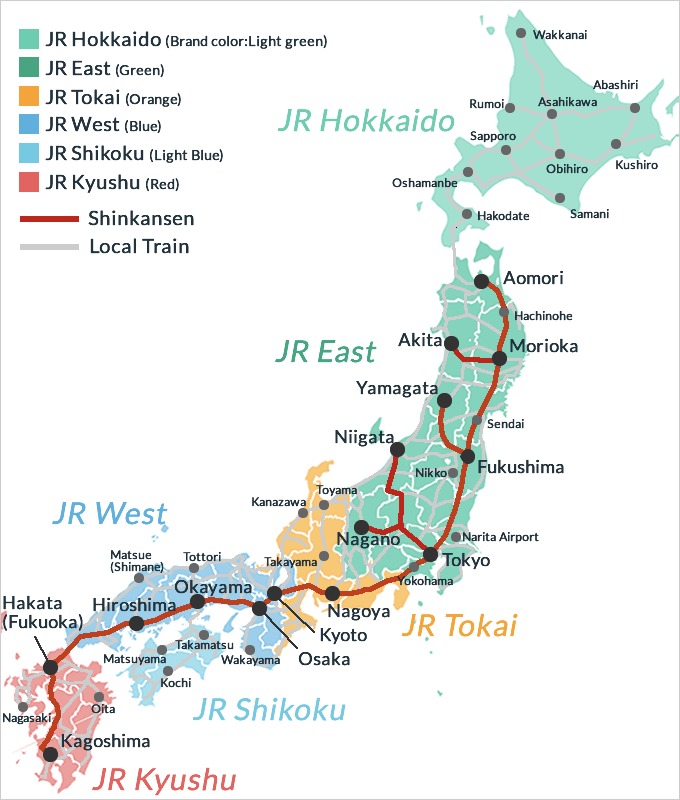 Railway Company
The entire Japan railway line covers the entire territory of Japan like a spider web, and there are many types of railways and operating companies, mainly divided into [JR], [Private Railway], [Subway], and [Streetcars]. Some routes span the whole of Japan, and some only run in certain major cities. Therefore, to ride Japanese trains correctly, you must first know their types and differences.
There are some special railway routes. [JR] and [Subway] and [Private Railway] will share the same railway and platform. Japan will call it "direct operation". For example, there are more than 10 subways and JR in Tokyo. Lines and other private railway lines run through.
Japan Railway (JR, Japan Railway)
Originally a Japanese national railway, it was later privatized and split into seven railway companies: JR Hokkaido, JR East Japan, JR Tokai, JR West Japan, JR Shikoku, JR Kyushu and JR Cargo. In addition to general railway lines (incoming lines) and Shinkansen, JR regional companies also operate general buses and highway buses. E.g:
All Shinkansen (Tokaido, Sanyo, Kyushu Shinkansen, Hokuriku, Joetsu Shinkansen, Tohoku, Yamagata, Akita Shinkansen)
Tokyo's Yamanote Line, Chuo Line, Keiyo Line, Keihin Tohoku Line
N'EX Narita Express in Tokyo, Kanto
Kansai's Osaka Loop Line, Kanku Express, Kanku Limited Express "Haruka"
Examples of JR: Limited express train "N'EX" connecting downtown Tokyo and Narita Airport; "Haruka Kanku Limited Express" and "Kanku Express" connecting downtown Osaka and Kansai Airport; Yamanote Line and Chuo Line which are important in Tokyo ; The Shinkansen connecting Tokyo, Nagoya, Kyoto, and Shin-Osaka are all 【JR】!
There are many routes on the Shinkansen. In addition to the "Tokaido-Sanyo Shinkansen" that connects Tokyo and Hakata, the "Tohoku Shinkansen" that connects Tokyo and Hachinohe (Aomori Prefecture), and the "Joetsu Shinkansen" that connects Tokyo and Niigata, which is frequently used by most tourists The Shinkansen, the Nagano Shinkansen that connects Tokyo and Nagano, and the Kyushu Shinkansen that runs in Kyushu (currently the Shin-Yatsushiro (Kumamoto Prefecture) and Kagoshima Central (Kagoshima Prefecture) have been opened). route. There are three types of seats: "free seats", "reserved seats" and "green (first class)".
Private Railway: Japanese private or private enterprises
Mainly connect the railway terminals of various cities and the suburbs. As private railway companies actively cooperate with each other to travel together, private railways or subways of different railway companies may enter the routes of another company and mark them as "direct operation" to make it more convenient for passengers. For tourists, the following routes are more commonly used, for example:
Odakyu Electric Railway: Odakyu operates three routes from Tokyo to West Tokyo and Kanagawa Prefecture, connecting Tokyo to Kanagawa Enoshima, Kamakura, and Hakone.
Tobu Railway: The eastern part operates many railway lines to the suburbs and counties north of Tokyo, connecting Tokyo to Nikko.
Keisei Electric Railway: Keisei operates a route from Tokyo to Chiba Prefecture, including one main trunk line and several branch lines, connecting Tokyo Metropolis to Chiba Prefecture and Narita Airport
Keikyu: Keikyu connects Tokyo with Yokohama and southern Kanagawa Prefecture. Features that attract tourists: This route takes you to Haneda Airport.
Nagoya Railway: Meitetsu operates a very extensive railway network that runs around the famous old houses and connects Aichi Prefecture, Gifu Prefecture and Chubu International Airport.
Kintetsu: The largest private railway company. Kintetsu operates a wide rail network, covering the South Kinki area, serving counties and cities including Osaka, Kyoto, Nara, Ise, and Nagoya.
Nankai Electric Railway: Nankai's railway network is located in South Osaka and Wakayama Prefecture. Features that attract tourists: This route can go to Kansai Airport and Koyasan.
Hankyu Electric Railway: Hankyu operates several routes in Kita-Osaka, connecting Osaka Umeda, Kyoto Kawaramachi and Kobe.